The Key Winning Feature: Auto-Bid
Auctions can last for days sometimes. And with the need to stay following up during the whole auction you'll definietly need to use the Auto-Bid. In this blog you'll learn how to use it and we'll take you through some tips and tricks to use it effectively.
First:

  After Boosting. Click on "Auto-Bid".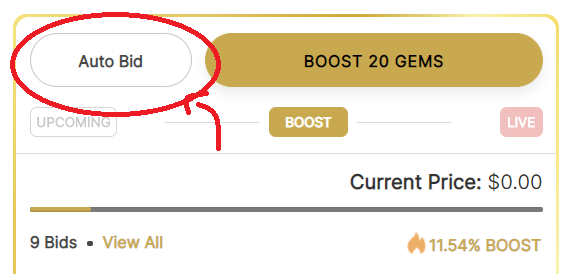 Second:

  Put the number of bids you want the auto bidder to use for you in the auction.
You need to have enough gems for that. Each bid will cost you 1 or 2 gems.


Third: Set the starting and ending values for the auto bid.


Note: Always put Bid From on 0.0$ to avoid losing in the first meters of the auctions.
So if you set "Bid From" on 0.2$. You'll start bidding only after the auction reaches that price.
And if you put the Bid to on 6$, the your bidding will stop automatically when auctions reaches that.

Click on "Confirm auto bid", and you're done.

Always Activate the Auto-Bid
Always put Bid-From on 0.0$ then you can turn it On/Off anytime.
When only few bidders are actively bidding. You need to keep the Auto-Bid On.
A good time to turn it Off is when too many bidders are actively bidding.
Always keep your eye on the Gems balance. If you run out of gems Auto-Bid will stop and you'll lose.
Auto-Bid is an essential tool to win an auction. Make sure to understand it and use it effectively. Spend sometime before the auction to think about the best times to turn it Off/On.
Ready now? Go and check the available auctions. Boost and set your Auto-Bid wisely!